Published reviews of my books
"A Naturalist's Guide to the Insects of Australia"
By Peter Smithers
Read full review...
In their introduction, the authors clearly state that this book sets out to cover a range of genera and representative species that are commonly encountered or broadly distributed in the eastern area of Australia that runs from Darwin to Adelaide. It is a book that will appeal to natural historians of all ages who want an easy-to-transport guide that will offer basic information on the insects they might encounter while traveling around eastern Australia. The book is small, colourful and attractive so it will have instant appeal to travellers and tourists. It covers 28 orders of insect, with a brief overview of each in the introduction. The common or distinctive families in each order are then illustrated with photographs of representative genera and species. Each of these is accompanied by a description of the species plus notes on its distribution, habitat and biology.
While this guide only sets out to offer the briefest of overviews of insect diversity in eastern Australia, it sets this in the wider context of the incredible diversity that this fauna offers. At the rear of the book is a table that lists all of the insect orders and the families that they comprise, listing for each family the numbers of genera, species and subspecies that they contain. This very neatly gives the reader an appreciation of the vast number of insect species found in the region. There is also a brief account of insect lifecycles, a glossary and an index, plus a list of useful websites and references for further reading.
For anyone unfamiliar with the insects of this region, this book is excellent value for money. It is a small gateway to a vast subject and will, I hope, stimulate many of its readers to go on to acquire a greater interest and appreciation of Australian insects.
Read full review...
Here's another new field guide to butterflies: A Naturalist's Guide to the Butterflies of Australia by Peter Rowland and Rachel Whitlock, published this year by John Beaufoy in association with Autralian Geographic as one of a series on Australian wildlife.
Conveniently pocket-sized, it covers 300 species (i.e., about two thirds of Australia's total) at two per page. Each appears as a good-sized photo of a living individual accompanied by a description and a summary of its range and habits. Before and after this core we find a few pages of general information about our butterflies, a checklist showing which state/s each species can be found in, and a good index.
All in all it's an attractive and useful volume. It's only half the size of the books by Sankowsky or Braby but it's a reasonable alternative to either of them.
"A Review of: A Naturalist's Guide to the Butterflies of Australia [Online]."
© Guy Padfield
19 September 2020
Available from http://www.dispar.org/reference.php?id=168
Citation: Padfield, G. (2020). A Review of: A Naturalist's Guide to the Butterflies of Australia [Online]. [Accessed October 25, 2020].
Read full review...
This new guide is a welcome addition to the Naturalist's Guide series, extending its coverage of South and South-East Asian butterflies to Australia and its immediate islands. Like the other books in the series, it is aimed at the general naturalist who would like to put a name to most of the species he or she sees, rather than the butterfly specialist who insists on identifying absolutely everything. This limited ambition allows the guide to be light and compact, easily carried in a pocket or stuffed into luggage without adding to the weight. Exclusive use of photographs of living butterflies further adds to its attractiveness to the general reader.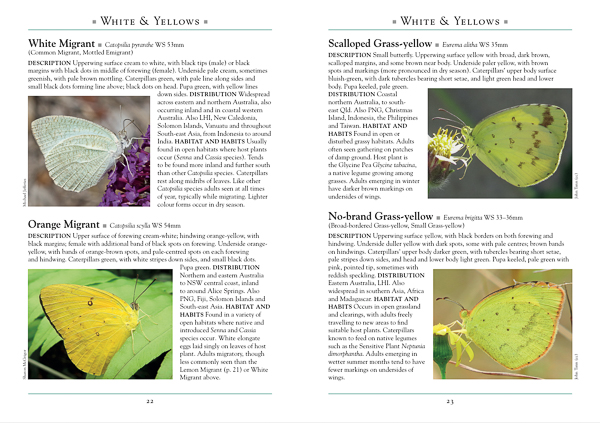 At last count there were 435 species of butterfly in Australia, of which about 300 are described and illustrated in the book. If not comprehensive, this is nevertheless a very good proportion of the whole, especially considering that all the most common species are there. The inevitable downside is that individual entries are short (two species to a page) and space for pictures is limited. This is not so much a fault as a necessary restriction imposed by the format, requiring the author to choose what is included and what is left out. Interestingly, the various books in this series have taken slightly different approaches here.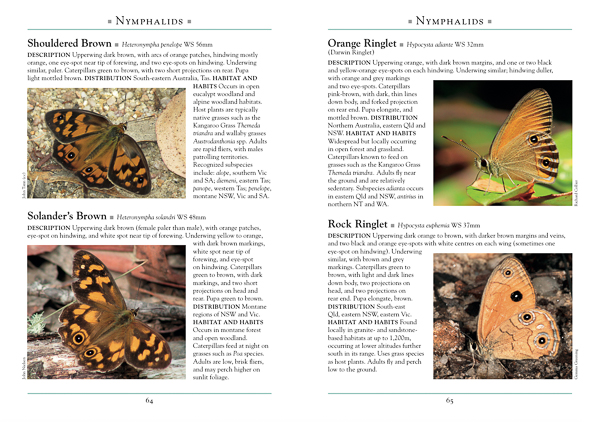 The present volume uses one or at most two photos to illustrate each species. These are generally of high quality and give a good flavour of the butterfly, even if in many cases it means you only see one surface of one sex. The accompanying text descriptions are surprisingly brief with regard to markings, and unusually for an identification guide give no direct pointers to the separation of similar species. I imagine this is a conscious decision as it is universal – every butterfly is described in itself, without comparison with others – but it does make identification a little bit harder. The superficially similar Large Green-banded Blue (Danis danis) and Small Green-banded Blue (Pychonotis caelius), for example, are nine pages apart without cross-reference, and the Tailed Green-banded Blue (Nacaduba cyanea) comes somewhere between the two – again, without mention of the others. In isolated instances similar species are cross-referenced (the Pencilled Blues, for instance) but there is no attempt to say how they can be distinguished. Text space is saved, but at a cost, in terms of species recognition. The author uses this freed space to describe the caterpillar and pupa of each butterfly (something not done in other Naturalist's Guides I own) and devotes a big chunk of each species account to habits and habitat. In a real sense, this gives a better overall picture of the species and encourages a more ecological, whole-butterfly approach both to identification and to understanding the butterflies. It does, however, make the book a little less user-friendly for flicking through your holiday photo album and identifying all the snaps.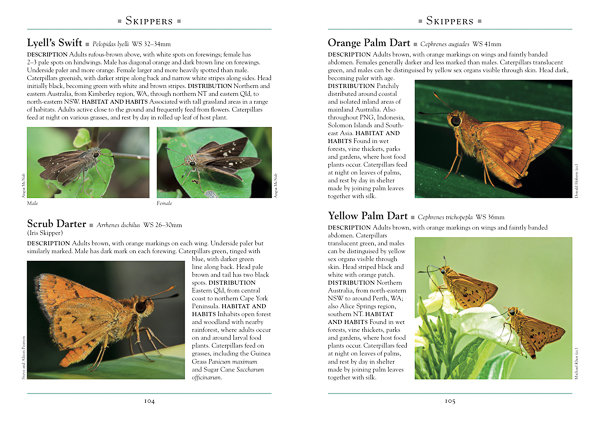 The book opens with a brief introduction to butterflies, including sections on their evolution, their relation to agriculture as pests and pollinators, and their life cycle, and concluding with a glossary of terms used in the book. At the end of the species descriptions is a useful checklist of all Australian species together with an indication of where they are found. This is a valuable resource, especially in the internet age. If you find a butterfly that seems not to be included in the main pages you can google the related species occurring in your area.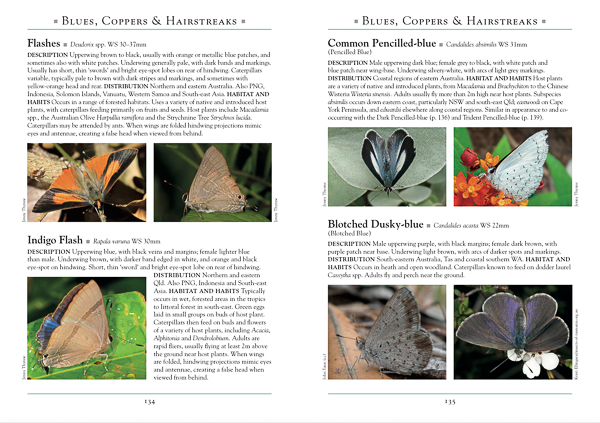 In conclusion, this is a handy and practical guide to most of the butterflies you are likely to see in Australia, easily carried in the field and well illustrated. The novice or casual lepidopterist will find it an excellent introduction to the species, bringing in as it does those useful notes on early stages, habits and ecology. For the serious butterfly-watcher, it will prove inadequate on its own and sometimes frustrating, but is nevertheless an excellent addition to the library with its wealth of photos of living butterflies. At the price, like all the titles in this series, it comes recommended.
"A Naturalist's Guide to the Insects of Australia"
By Matt shardlow
Issue #67 2020 (Written for Atropos)
Read full review...
"A compact introduction to Australia's insects"
By Gehan de Silva Wijeyeratne
17 May 2020 (Written for Paperback)
Read full review...
Insects are so numerous, not just in the number of species, but also in terms of the number of families, that all too often even keen naturalists give up on getting to grips with insects as a whole. Instead, the common strategy is to focus on a few groups such as butterflies, moths and dragonflies. In countries like Britain other groups which have a manageable number of species and are also attractive such as bees, wasps, hoverflies and ladybirds are also becoming a focus of attention.

To pack in a continent's insect diversity into a pocket-sized book of a length of 176 pages is a bold undertaking. Peter Rowland and Rachel Whitlock have done an admirable job. One of the wonderful things about this book is that as you idly thumb through the book, many people, especially those with an interest in natural history will begin to realise that they have a better appreciation of insect diversity at the level of orders and families than they may have realised. Despite it being a book on Australian insects, I suspect many aspiring naturalists in tropical and subtropical countries around the world will find this a very good photographic introduction to orders and families.
For example, starting on page 57 which I picked randomly, in 10 pages we pass through thrips, tube-tailed thrips, spittlebugs, leafhoppers, cicadas, plant hoppers, broad-based bugs, water bugs, bed bugs, squash bugs, water boatmen, pond skaters and seed bugs; a gallop through 13 families in ten pages. As you thumb through this book, even if you are living in a temperate latitude (as I am now, as a Londoner), you cannot but help think 'Oh I have seen insects like that'. Many tropical naturalists will find they do not have a decent guide to insects for their home country and a book like this which at least helps to recognise insect orders and some of the families is a helpful start. It develops a sense of confidence that at least at the level of orders and the more distinctive families, insects can be a manageable project.
In the end sections of the book is a checklist of Australian insects at the level of families with a tabulation of genera and species for each family. For anyone who has avoided insects as too much to take on, the checklist is a good place to start to making sense of the bewildering diversity. The checklist shows that insects which are a class, have two subclasses; the wingless insects with two orders (bristletails and silverfish) and winged insects. In Australia, the subclass of winged insects has 23 orders. They include familiar orders such as dragonflies (Odonata), stick insects (Phasmida), grasshoppers (Orthoptera), true bugs (Hemiptera), and so on, including the beetles (Coleoptera) whom it has been remarked that the creator was inordinately fond of. No less than 119 families of beetles are found in Australia and only a handful of families can be introduced in a book like this. The front section provides a thumbnail introduction to the 25 insect orders found in Australia. Thus, one learns or is reminded for example that the forewings of beetles are hardened into elytra or wing cases. Beetles are not the only insects who have lost a pair of wings, the other being the Two-winged Flies (Order Diptera).
The end sections provide a list of useful websites and references. The bulk of the book is made up of the species accounts in the usual format of this series with a photograph per species and text under the headings of Description, Distribution and Habit and Habitats. Although species accounts are in the vast majority of cases identified to individual species, where many similar species occur, a user will be doing well to narrow down a species they have seen, even to generic level. More generally the strength of the book lies in providing a good flavour to Australian insect diversity at the level of orders. This will make it useful to many people working as ecologists in parks and reserves with a public outreach role, in Australia as well further afield in the tropics. Those with non-scientific interest will find a variety of groups eliciting different emotions. Dragonflies, butterflies and jewel beetles will be beautiful. Cockroaches, lice, mosquitoes and fleas may be loathsome. The text is informative. The Oriental Rat Flea transmitted the feared Bubonic plague in the Middle Ages. In the Honey Ant, major workers have their abdomens swollen with honey after being fed by minor workers. Indigenous people catch these ants and suck the honey out.
I suspect the broad reach of the book may be attributed to Peter Rowland who has authored other titles in this series to popularise wildlife, collaborating with Rachel Whitlock who is studying systematics and taxonomy. Over 70 individuals and institutions have contributed images which show that despite it being a little book, this has been a massive project. Affordable, portable, accessible books like this play an important pathfinding role to grow future generations of scientists who will go on to write more scholarly and larger volumes that may bask in the limelight of being frequently cited. But future scholarly works may have their beginnings in books such as this that inspire and recruit future entomologists.
Read full review...
Discover the hotspots where Australia's feathery flocks gather, with this handy guide to 55 locales.
It can happen to anyone. You chance upon a common pigeon, take a happy snap and forget about it. But in the back of your mind, chemicals start firing, neurons start falling into place. At first, you don't even realise what is happening, and then, before you know it, you're a full-blown twitcher, lying prone on the edge of a lake, staring through binoculars poised below your brimmed hat. Whichever stage of development you find yourself in, you may be interested in the recently released book, Australia's Birdwatching Megaspots: The 55 Best Birdwatching Sites in Australia. 
Prefaced with some background information on birds — including their evolution, bird families, birdwatching ethics, behaviour, and a handy diagram (you may know what a beak is, but can you tell me what 'tertails' or 'lores' are?) — the book then plunges into a state by state breakdown of the 'megaspots' of the title. Each state and territory is accounted for; the spots are mostly on or within a few hundred kilometres of the coast. The pages for each megaspot lay out a brief introduction of the place, and key facts about getting there, fees and permits, and facilities; before swooping into the birding 'tracks, trails and sites', the key species to be found, and detailed info on habitat, behaviour, and physiology of two birds that appear in the area.
This guide is not light bed-time reading. Its focus is practical; and to that end, it thrives. I can see this book sitting in the glovebox of many a 4×4, to be taken out upon packing up camp. 'Where to go?' the driver might ask, and the passenger, flicking through the pages, might say: 'How about Mallacoota? We're a chance of a White-bellied Sea-Eagle there'. For the free-roaming, improvising traveller towing a camper, this guide can help give purpose and success to your interactions with the avian population. 
"Australia's Birdwatching Megaspots"
Source: Email to authors
February 2018
Dermot O'Gorman CEO, WWF-Australia
"Australians have a strong affinity with their unique environment and wildlife. I hope this book inspires you to observe Australian birds in their natural habitats and to preserve the areas where they live. Their protection is in our hands and I commend the authors of Australia's Birdwatching Megaspots for their commitment to conservation."
Paul Sullivan CEO, BirdLife Australia
"A terrific resource to enjoy Australia's amazing native birds and the best birding megaspots. Spying on birds is also a great way to help BirdLife protect them – enter your sightings in our birdata app."
"Bowerbirds [Australian Natural History series – CSIRO Publishing]"
Source: CSIRO Publishing
Robbie Burns, Land for Wildlife South East Queensland, July 2009
"… this book was a pleasure to read and will sit comfortably within any bird enthusiasts reference library. I found it easy to approach, informative and a glowing tribute to Peter Rowland's passion for our feathered bower-building friends."
"The first thing that struck me when I was reviewing this book was the incredible amount of work that Peter has put into his research The text is full of informative and interesting facts, backed with plenty of scientific research. So often, books with this much information are quite laborious to read but this definitely isn't the case with Peter's book. As a natural history writer and nature photographer myself, with a special love for birds, this book will be a welcome addition to my collection."
Michael Snedic, The Victorian Naturalist, June 2009
"Rowland's Bowerbirds is a worthy addition to the literature on the Ptilorhynchidae, and the colour photographs beautifully capture the engaging nature of these birds. Written in an accessible, readable style, it is an ideal introduction for anyone who wants to learn more about a mesmerizing avian family."
Laura A. Kelley, IBIS, January 2009
"Overall, this is a widely accessible book on the natural histories, behaviours, and various species of bowerbirds that shall go a long way to attract current interest in this group of birds from birdwatchers, natural historians, and scientists alike."
Mark Hauber, Ornithological Society of New Zealand journal Notornis, 2009
"This book contains excellent photographs . . . is easy to read and an informative field guide for the bower bird species."
Robert Skeet, WA Naturalist News, October 2008
"Anyone interested in the bowerbirds will want this book!"
Birdbooker Report 66: Living the Scientific Life
Michael Snedic, The Victorian Naturalist, June 2009
"The first thing that struck me when I was reviewing this book was the incredible amount of work that Peter has put into his research The text is full of informative and interesting facts, backed with plenty of scientific research. So often, books with this much information are quite laborious to read but this definitely isn't the case with Peter's book. As a natural history writer and nature photographer myself, with a special love for birds, this book will be a welcome addition to my collection."
Laura A. Kelley, IBIS, January 2009
"Rowland's Bowerbirds is a worthy addition to the literature on the Ptilorhynchidae, and the colour photographs beautifully capture the engaging nature of these birds. Written in an accessible, readable style, it is an ideal introduction for anyone who wants to learn more about a mesmerizing avian family."
Mark Hauber, Ornithological Society of New Zealand journal Notornis, 2009
"Overall, this is a widely accessible book on the natural histories, behaviours, and various species of bowerbirds that shall go a long way to attract current interest in this group of birds from birdwatchers, natural historians, and scientists alike."
Robert Skeet, WA Naturalist News, October 2008
"This book contains excellent photographs . . . is easy to read and an informative field guide for the bower bird species."
Birdbooker Report 66: Living the Scientific Life
"Anyone interested in the bowerbirds will want this book!"